Top Ranges
Greendale
supplies an extensive range of floorcoverings to its Members, from hard-wearing twists to luxurious saxonies and elegant velvets.
Our top selling twist ranges are made especially for us and so represent excellent value for money.
We are also constantly in touch with our members and always have up to date product information including range changes and availability.
At
Greendale
we have an in depth knowledge and understanding of the latest carpet types and trends. Through our day-to-day operation and experience in the carpet business sector, we have built a great awareness and both our members and you, the carpet buyer, can feel completely supported at all times.
---
Please browse detail of our current
Top Ten
best selling ranges. You can also click through to download more information including available colour for each range.
---
GREENDALE TOP SELLERS
Abbeyford
Adelphi
Allegro
Antoinette
Antoinette Runner
Ariadne
Artemis Twist
Aspirations
Balmoral
Bamburgh Choice - Premium
Bamburgh Choice - Superior
Bamburgh Choice - Ultimate
Bamburgh Stripe
Barocci
Beacon Twist
Bellini
Bibury / Deluxe
Botticelli
Braemar Twist
Braemar Twist - Supreme
Brecon Berber Choice
Brindley Loop
Bromyard
Bruges
Burbage
Burley Gate
Burnham Beeches
Canberra Deluxe / Elite
Capital Twist - Deluxe
Capital Twist - Stripe
Capital Twist - Superior
Capital Twist - Ultimate
Caruso
Casablanca
Castle Combe / Deluxe
Centaur
Cossack
Cossack Heathers
Cotswold Berber
Countryside Twist
Denby
Downton
Dynasty
Egypt
Emporio
Endeavour
Faro
Fashion Statement
Flagship
Flintlock
Foxley Fashion
Foxley Heathers
Foxley Style
Frontier
Galahad Weave/Boucle
Garrick Twist
Genesis
Greenwich Woven Wilton
Groomsport / Deluxe
Hambledon / Deluxe
Harvard
Heavenly Fashion
Hereford Classic - Gold
Hereford Classic - Silver
Highclere
Hopton Loop
Horbury
In Vogue
Lulworth
Madagascar
Maderia
Majesty
Malvern Select Twist
Manor House
Mantra
Matisse
Mauritius
Minuet
Modern Saxony
Monmouth
Monopoly
Montego Bay
New Clean Twist / Deluxe
New Cotswold Berber
New Endeavour
New Natural Life
New Woolcraft
Newbury / Newbury Superior
Newent Twist
Ovation
Ovation Heathers
Paradise Twist
Pendine
Platinum Twist
Platinum Velvet
Platinum Velvet Deluxe
Platinum Velvet Elite
Polperro / Deluxe
Portmeirion / Deluxe
Portsmouth Twist
Premium Heather
Premium Plain
Premium Twist
Reigate
Rembrandt
Ritz Line
Romantic Choice / Deluxe (NEW)
Rowallane Axminster
Rowallane Plains
Santorini
Santorini Runner
Scarborough Twist
Scarborough Twist - Deluxe
Sculptured Elegance
Shrewsbury
Sisal Collection
Skyline - Moscow Deluxe
Skyline - Moscow Supreme
Skyline - New York Deluxe
Skyline - New York Supreme
Skyline - Sydney Deluxe
Skyline - Sydney Supreme
Soft Sentiment
Solari
Stayclean Typhoon Twist
Stayclean Ultra Twist
Strada
Superior Velvet
Tarrington Twist
Taunton Twist / Supreme
Taurus
Tempo
Theatreland
Tigris
Tweed Twist
Tweed Twist - Supreme
Ulster Velvet Wilton
Vasari
Verdi
Versailles - Velvet Regal
Versailles - Velvet Supreme
Voltaire
Wimbledon
Woburn
Woolcraft
Zanadu
Range Guides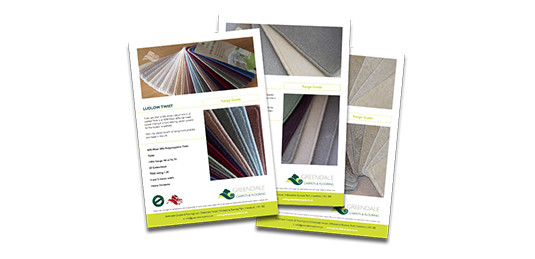 Please see below our latest guides to the various Greendale ranges. This contains general information to help with your carpet selection.
GREENDALE NEW ARRIVALS
Aspirations
Blenheim
Caithness
Canberra Deluxe / Elite
Chic Twist Deluxe / Elite
Dover Twist / Deluxe
Fashion Statement
Frontier Supreme
Highclere
In Vogue
Modern Saxony
Monarch / Monarch Supreme
Monet
New Endeavour
New Forest / Supreme
Newbury / Newbury Superior
Platinum Loop
Silchester Deluxe / Silchester Elite
Tranquility
Wimbledon
Yale